Pool owners often love to invite friends, family and neighbors over for a seasonal splash. When planning your own pool party, consider the following tips.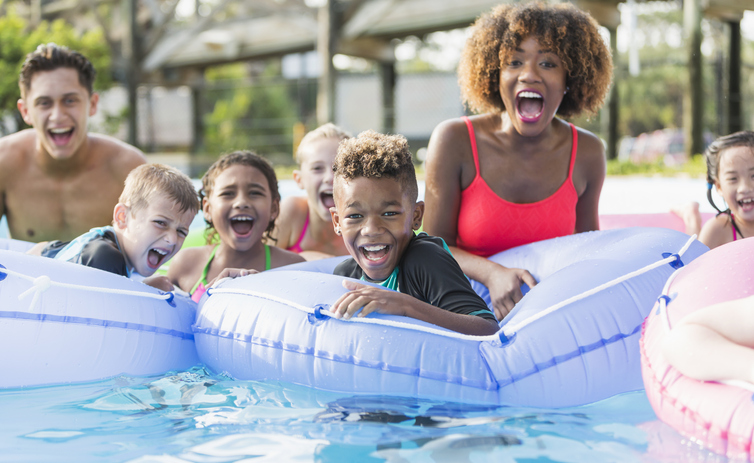 Clean your space.
When it comes to a pool party, it's important to start with the basics. Make sure that your pool is working and clean. If there are leaves or other debris on the bottom, use the skimmer to get them out or, if you're feeling adventurous, dive in yourself and grab them. Double check that your filter, heater, and any other accessories are running smoothly at least a day or two before your party. These are problems that will need at least a full day to solve, so you definitely don't want to run into them the day of. Following the pool area, ensure that your yard is straightened up. You can start by making sure outdoor furniture is all set to perfection, your lawn is mowed and your garden is on point.
Set a theme.
Now that we've covered the basics, let's dive a bit deeper. A pool party typically doesn't have a theme, therefore, creating one can really take it to the next level and separate yours from the rest of the pack. When choosing a theme, be sure to take into consideration the season and try to choose lighter, more "summery" colors like pink, yellow or light blue (or all three). Once you have picked the theme, start incorporating it into every facet of the party. If the color scheme is pink - think big. Buy pink floats for the pool, pink towels for everyone to use to dry off, get pink accent pillows for your backyard furniture, make pink cupcakes, get pink plates and cups and make a pink drink for the kids (maybe even a separate one for the adults, if you know what we're saying!). Fully incorporating the theme gives the party more energy and a direction.
Factor in the food.
The next important factor is having a tasty food menu. The food can truly make or break a party. During the summertime, grilling is the go-to and is definitely our recommendation. You can never go wrong by making fan favorites like hot dogs, hamburgers and grilled chicken. Keep in mind, it is always important to know your audience, and if you think that they would prefer something along the lines of pizza, then feel free to venture outside the grilling norm! Whether it's the adults or the kids, the dessert at a neighborhood pool party needs to be a head turner. The amount of excitement and energy that is common in pool party attendees will carry over into yummy treats for sure. Source: LOOP-LOC
Published with permission from
RISMedia
.