Fall is for first-timers.
Seventy of the top 100 largest metropolitan areas see more starter homes on-market in October, November and December, relieving prices 4.8 percent over spring, according to the recently released Trulia Inventory and Price Watch. The most dramatic shifts—in favor of first-time homebuyers.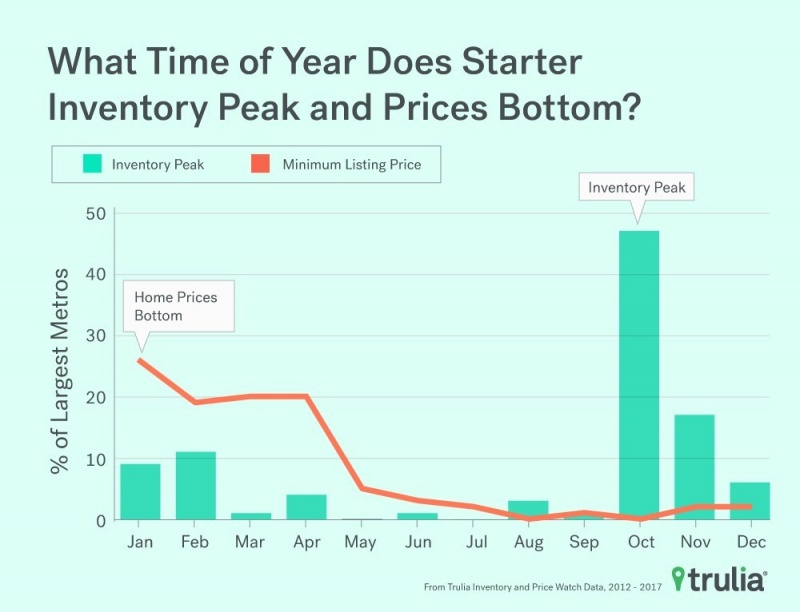 "Housing markets have long been plagued by tight inventory and worsening affordability, but it's not completely hopeless for would-be homeowners," says Cheryl Young, senior economist at Trulia. "The seasonal swings in listings and prices means buyers will likely find more homes for sale at a lower price in the fall and winter months." Make no mistake: The housing market is still in a squeeze. Entry-level home inventory sank 20.4 percent year-over-year over the summer, while move-up home inventory shrunk 12.5 percent. Even luxury homes were at a shortage, down 2.3 percent. First-time homebuyers were forced to shell out 39.7 percent of their monthly earnings for a starter home. The change of season, still, could usher in more opportunities. "Starter homebuyers should begin looking now," Young says. "The fall season provides a great opportunity for finding the right home and neighborhood, thanks to a bump in homes for sale on the market, followed by lower winter prices."
For more information, please visit www.trulia.com
.
Suzanne De Vita is RISMedia's online news editor. Email her your real estate news ideas at sdevita@rismedia.com.
Reprinted with permission from RISMedia. ©2017. All rights reserved.